My parents instilled in me at a very young age the importance of work ethic. Growing up, my parents had a booth at art festivals and many weekends were spent traveling with them across Michigan, Indiana and Ohio. My mother is a very talented artist and my father is great at woodworking. Together, they made a great team where they created knick-knacks, shelves and furniture that they sold and made a name for themselves among the arts and crafts circuit.
This was around the time that the Nintendo NES came out to the masses, and I REALLY, REALLY, REALLY wanted one. All the "cool kids" had one. Why couldn't I?! Well, I learned at a very young age—8 years old to be exact—that one doesn't just get handed what they want in life. They have to work for it. And hard.
My parents thought that if I wanted a Nintendo, I had to earn a Nintendo. And no, this wasn't through regular run-of-the-mill chores and housework that typical parents have their children perform for an allowance; this was a real job of sorts. I painted tulips.
Tulips? Yes, tulips. My dad fashioned a tulip flower and leaves from wood, and joined the two with a dowel rod. My part in all of this was to completely paint the thing. Imagine having a tomboy of a child, 8 years old, and tethering her to a chair all day. That was me. My poor parents. I'm sure I put up a fight. I know that I wasn't particularly happy being stuck indoors painting. Regardless, my attitude changed drastically when the tulips were a hit and I sold enough to purchase my dreamy Nintendo!
Besides learning how to use acrylic paints (my mom's weapon of choice), I also learned quite a bit from my grandma in the art of oil painting. I spent so many great afternoons with her learning how to paint flowers, fruit and the occasional still life—you know, the boring stuff. I couldn't wait to get my claws into painting the one thing I always wanted to paint (which also happened to be my favorite subject). One word: UNICORN. Oh yes, I painted a unicorn on my own and was super happy with it. Looking back, I can't help but crack up whenever I see that painting. It's bad, really bad. (Try telling that to a giddy 8 year old and see where that lands you.)
​​​​​​​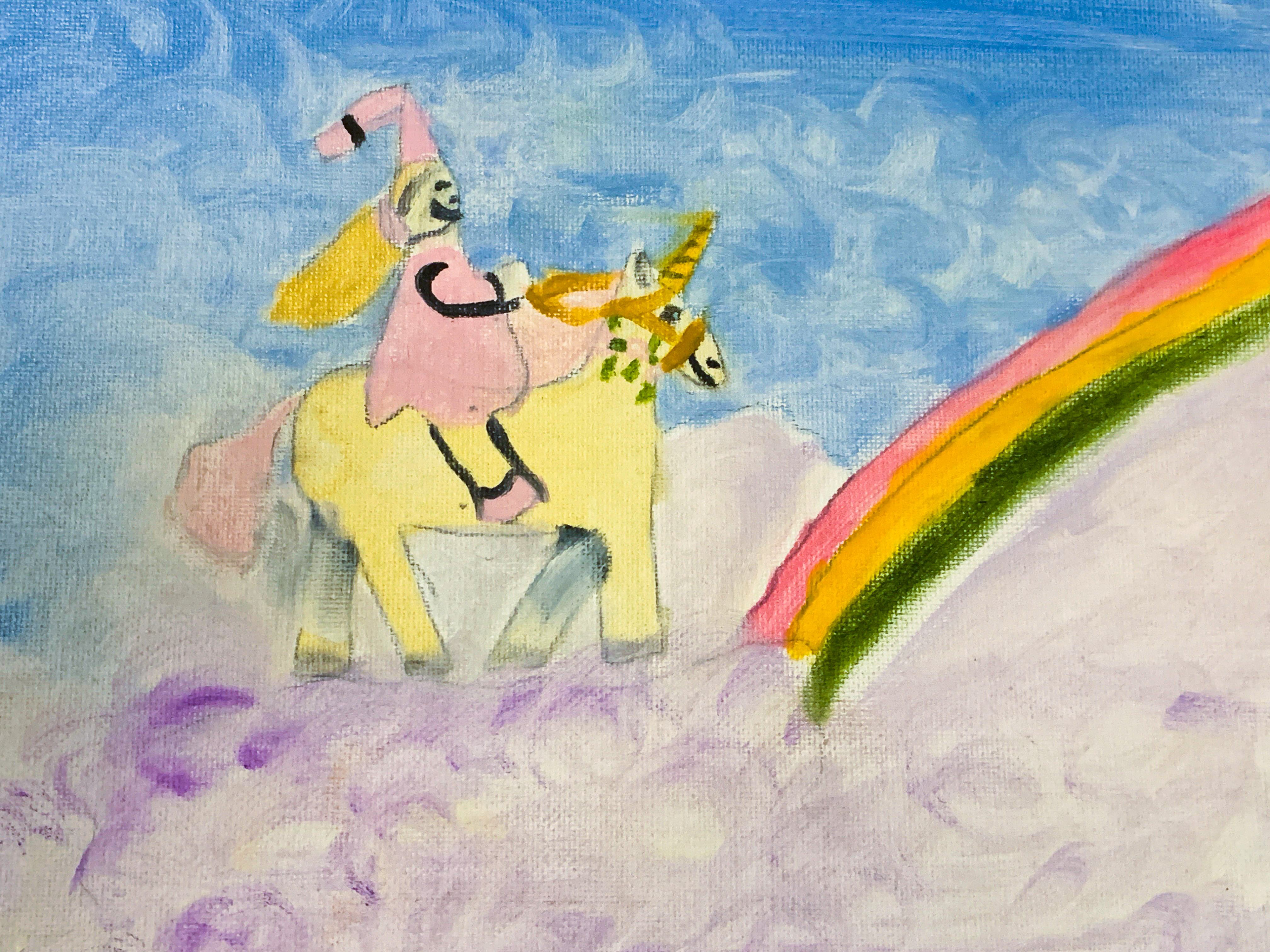 Growing up, I fell hard for Disney animations such as The Little Mermaid, Aladdin, Beauty and the Beast, and The Lion King. I decided around 10 years old that I was going to become an animator and work for Disney.
I went to college at East Tennessee State University for animation and met and married my husband, Chris Street (who also got a degree in animation and has worked on animation and VFX for feature films). We moved to Florida to be closer to Disney Animation. Unfortunately, that's also the year that Disney closed down their entire 2-D animation department. So, we took jobs in screen printing. For me, my career made many twists and turns over the years. I have run the gamut—spending time in traditional advertising, shopper marketing, web and UX design. I have been fortunate to work with some of the world's largest corporations such as Walmart, CVS Pharmacy, Disney, eBay, Sam's Club, Google, Microsoft, Mattel, Hasbro, Toshiba and Apple. I
 currently freelance full time and create my own line of artwork.
If you are looking for a design partner—whether it be illustration or corporate-based (websites, logos, etc.) design, be sure to check out my services. If you feel that I am the right fit, hit me up and we can start a dialogue!
Again, thank you for taking a moment to check out my website!